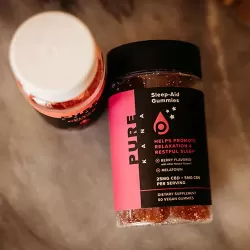 Simply CBD Granbury is your one-stop shop in Hood County and Granbury, TX for all your CBD needs. We have a wide selection of topical creams, lotions, oils, tinctures, and gummies to give you an all-natural alternative for a huge range of ailments and conditions. There are many proven benefits to regularly using CBD. 
CBD Gummies are a great option for someone who is new to trying CBD. They taste great and are great for easing into using CBD for various health reason.
How CBD Gummies Can Help You
Relief and relaxation doesn't need to be complicated. Simply CBD Granbury's CBD gummies are your best way to find relief through a sweet, gummy treat!
We even have gummies that contain low THC (0.3%) in accordance with Texas law. The low THC in our gummies will help you feel calm in a matter of minutes without feeling the actual "high" that comes from other edible forms with higher THC levels. Taking them won't keep you from staying productive throughout your day.
The high-quality gummies at Simply CBD Granbury make relaxation easier. They are small, sweet, and chewy, perfect to take even when you're on-the-go.