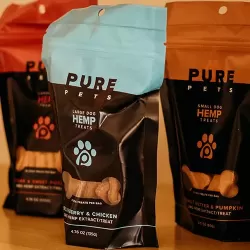 Your pet's relief is just as important as yours. Simply CBD Granbury also has CBD products formulated specifically for pets. 
CBD for dogs and cats comes in typical forms you would see for humans - edibles (think dog and cat treats), oils, and topical creams. It is a great alternative to veterinary medication that can cause unhealthy weight gain and lethargy as side effects, keeping your pets as healthy and happy as they can be. 
How CBD Can Benefit Your Pets
We all love our four-legged friends and want them to be happy and healthy for as long as possible. Sometimes this means keeping them comfortable and doing what we can to improve their mood. 
CBD can help your dogs run fast and chase squirrels for years to come by improving their overall health. The same can be said for your feline friends.
Keep in mind, however, that CBD takes effect differently in animals as they do in humans. Make sure to do your research and consult with a veterinarian before you give any CBD products to your furry friends.