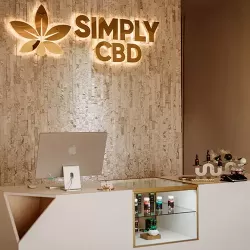 You deserve the best for your health and wellness. At Simply CBD Granbury, we truly believe in the many positive side effects of using CBD to help with a variety of ailments. 
That's why we started this business. We have a passion for helping residents of Hood County, and anyone else passing through, with our huge variety of products. And we are always happy to answer your questions when it comes to products and what effects they will have on you.  
Quality CBD In Granbury, Texas
Simply CBD Granbury is the first CBD shop in Granbury that offers CBD products to help manage a wide range of ailments and conditions. Our variety of products include low THC (0.3%) gummies and even CBD for pets. 
We aim to provide residents of Hood County and Granbury with a safe and all-natural alternative to help manage symptoms and conditions through our high-quality CBD products. Our shop in Granbury is nothing like head shop. Our goal with Simply CBD Granbury is to make you feel like you've just stepped into a spa.
At Simply CBD Granbury, we also understand that using CBD Products is likely a new thing for most people. We don't want you to feel intimidated in anyway. We are here for you. 
Everything sold in Simply CBD Granbury is legal and tested by our very own team, from our topical creams and lotions to gummies with low THC. We only carry the most high-quality products, so you can rest assured you're getting the best.